« Check Your Stats, You Might Be Missing Something -=- Confessions of a Newly-Minted Starbucks Decaf Regular »
One More Goal For My Life
It's not often that I'm caught off guard, but today I was.
Mrs. Vargas and I decided on a whim to go visit the Auto Collections at the Imperial Palace on the Las Vegas Strip today.
I haven't been there in nearly ten years, but I know the collection is far larger than what is on display, so every time you go, a different bunch of cars is available for viewing. The cars run the gamut from modest but impressive VW Beetles (one with 79 miles on it!) to multi-million dollar cars made by Rolls-Royce and Duesenberg. There were even a couple of custom-bodied Cadillacs that neared the million dollar range.
I am a certified car nut. Specifically, I like anything that's large and black and preferably has four doors. Sports cars and all those go fast racing toys don't impress me much. They're fun to look at, and great to throw into corners, but to me there's nothing like a living room on wheels, painted black and looking all shiny. If it goes fast and handles well, that's a bonus. My father Mr. Vargas has been in the car business for about 30 years now. I worked with him for a while, so this stuff is really in my blood.
One of my favorite brands is Mercedes-Benz. Mercedes has produced some of the most beautiful automobiles ever made. Large, imposing, and powerful-looking, they also present an unusual grace. The list is long of Mercedes-Benz cars I have admired. I have read a few books on Mercedes-Benz history, and have seen a lot of cars in person and even more in photos.
I was totally unprepared for what I saw today. I stopped dead in my tracks and actually had an emotional reaction so strong that I wept. I would stop short of saying love at first sight, since the car is not alive and can't love me back, but this machine absolutely hit every chord correctly and struck my soul with something I cannot quite explain.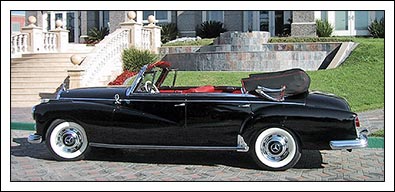 It is a 1961 Mercedes-Benz 300D Cabriolet D and according to its sale page, (which is where I got the picture) incredibly rare. They only made 16 that year and just a few more than 60 total. Odds are I could drive 500 miles a day for the rest of my life and never "see myself" driving the other way.
It is larger than you would think; probably as big as my '02 Ford Crown Victoria. And the black paint looks flawless. The only really bad part of it is the lack of air conditioning. In most climates, that's not a huge deal, but in Las Vegas, that can be fatal. That probably limits cruising in Vegas to certain times of the year.
I made a vow today. I will own this car. The asking price is $225,000, at least according to the sign next to it. I do not have $225,000 for a car, so figuring out the details of this purchase will take some time. Actually, I don't really have $225,000, so it seems impossible at this point. Despite that, this is not a vow I am going to take lightly.
Of course, if anyone out there has a spare quarter million (taxes and all) they'd love to give me, I'd be more than happy to arrange a few rides. I will even spring for gas. And if that doesn't happen, I will simply keep working until I have a spare quarter million and hope the price hasn't gone up too much. Of course partial donations are perfectly fine as well.
As Wayne Campbell once said, "She will be mine. Oh, yes – she will be mine."
---
Published Sun 12/18/05 at 10:35pm
Categorized in Journal, Mr. Vargas, Mrs. Vargas
4 Responses to One More Goal For My Life
Leave a Comment